Roll'eat was founded with a clear purpose: to provide alternative products that eliminate reliance on disposable packaging, which leads to wastefulness after a single use. As environmental awareness has grown, people worldwide are increasingly recognizing the importance of sustainable choices like Roll'eat.
Roll'eat's commitment to sustainability aligns with the global consensus on the urgent need for change. By offering convenient, eco-friendly solutions, Roll'eat inspires individuals, families, and communities to reassess their habits and make conscious choices that benefit both the present and future generations. The company acts as a catalyst for positive environmental action, contributing to the creation of a more sustainable and responsible society.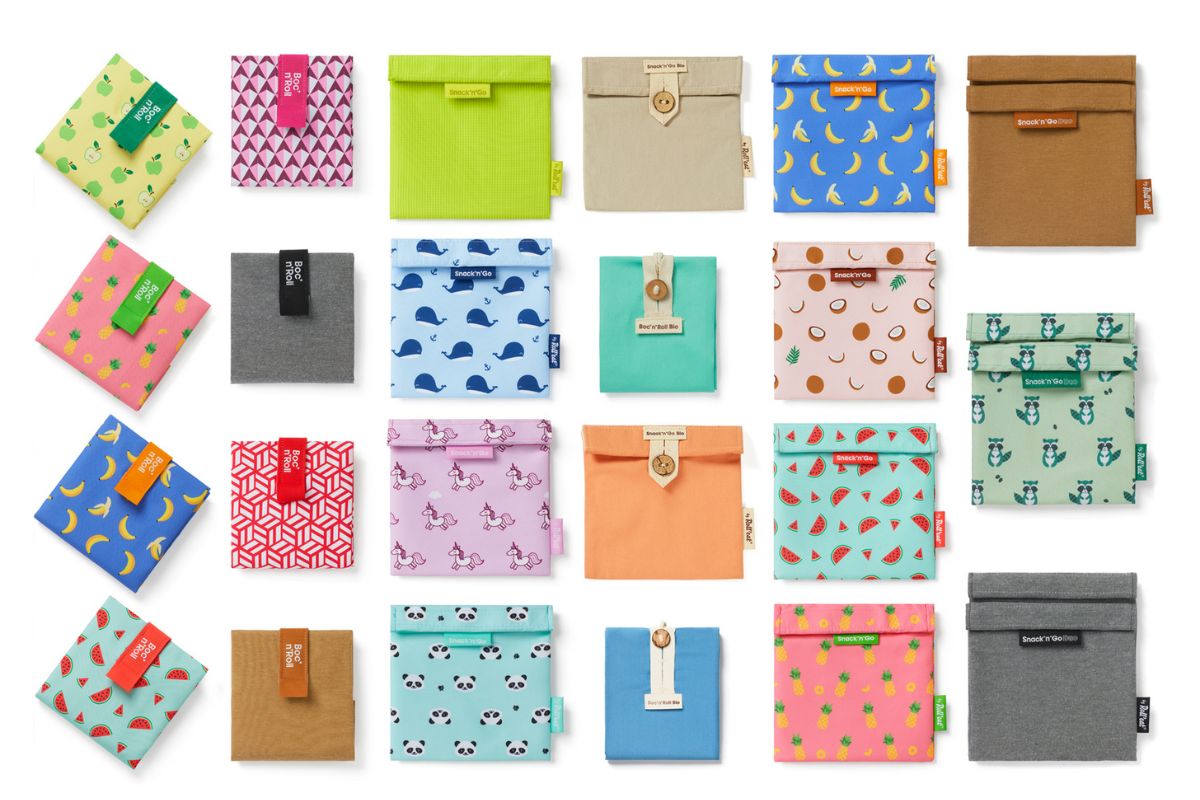 The societal benefits of sustainable products
Roll'eat sustainable products offer numerous societal benefits, some of which are highlighted below, emphasizing their importance in making a positive impact:
By incorporating products like Boc'n'Roll or Snack'n'Go into your routine, you actively reduce waste generation, particularly by eliminating the need for plastic bags, aluminum foil, and cling film. This simple shift contributes to combating climate change by minimizing the environmental impact associated with disposable packaging. Through conscious choices and sustainable alternatives, we can make a positive difference in preserving our planet.
Roll'eat products provide an extra advantage for companies as they can be personalized for promotional purposes. This allows businesses to promote environmental stewardship by using sustainable corporate gifts and products. By demonstrating their commitment to sustainability, companies inspire others to join in, creating a ripple effect towards a more sustainable society. This dual benefit of brand promotion and environmental consciousness highlights the significant impact of sustainable choices in shaping a better future.
And, one of the most significant benefits that Roll'eat provides is its contribution to creating a better future for the next generations. By promoting the use and manufacturing of their sustainable products, Roll'eat actively participates in fostering a more sustainable world. This commitment to sustainability ensures that future generations can inherit a cleaner, healthier planet, free from the detrimental environmental impacts associated with disposable packaging.
The benefits of Roll'eat products for you
As we have already mentioned, Roll'eat is a brand committed to reducing single-use plastic waste and dedicated to promoting the use of eco-friendly alternatives, Roll'eat has revolutionised the way food is transported with its eco-friendly, reusable products.
Boc'n'Roll and Snack'n'Go products, apart from being eco-friendly alternatives to single-use packaging, have other features, such as the following:
Production with high quality materials
Our production process focuses on the use of high-quality, food-safe materials. In addition, our BIO collection is made of biodegradable materials.
To ensure the highest quality, Roll'eat carefully selects the materials it uses to manufacture its products. We prioritise sustainability by choosing materials such as organic cotton, polyester and polyethylene, which are durable, easy to clean and contain no harmful substances. These materials are also certified for food use, which guarantees the safety of the stored food.
Machine washable
Maintaining cleanliness in food packaging is crucial, and Roll'eat understands this well. That's why all of their products are designed to be easily cleaned. For thorough cleaning, you can simply toss them in the washing machine at 60ºC, ensuring complete hygiene. However, if the Boc'n'Roll or Snack'n'Go isn't heavily soiled, a quick wipe is all it takes to keep it clean and ready to reuse. This versatility provides convenience for users who may not have immediate access to laundry facilities. With both machine-washable and wipeable options, Roll'eat offers practical solutions that prioritize cleanliness and ensure hassle-free maintenance for a seamless and hygienic food storage experience.
Adaptable to any food
Roll'eat has 3 types of products with different shapes to suit any type of food.
Boc'n'Roll, perfect for all kinds of sandwiches, fruits, pastries… Thanks to the Velcro closure it is possible to pack different sizes and shapes of sandwiches easily.
Snack'n'Go, the ideal snack bag. With it you can take your snacks and sandwiches anywhere. It has an easy fastener, compact to fit in your pocket after use.
Snack'n'Go Duo, the double snack bag. Perfect for people who want to take more than one snack with them, as it has two different pockets to separate your snacks.
Serves as a tablecloth
The Boc'n'Roll is not only a practical food wrap but also a versatile accessory. Apart from keeping your food fresh and portable, it serves an additional purpose as a convenient tablecloth. By simply unfolding it, you can instantly transform it into a clean and hygienic placemat, providing you with a tidy surface to enjoy your meal. Whether you're picnicking in the park, having lunch at the office, or even dining outdoors, the Boc'n'Roll ensures you can comfortably enjoy your food anywhere. Its dual functionality makes it an essential item for those seeking convenience, eco-friendliness, and an enjoyable dining experience on the go.
Long-lasting products
Roll'eat takes pride in crafting sustainable products that prioritize durability and quality materials. By using high-quality materials, their reusable sandwich and snack bags are designed to last for many years, reducing the need for frequent replacements. This not only benefits the environment by minimizing waste but also offers a cost-saving advantage to consumers. With fewer refills required, individuals can save money in the long run. The combination of durability and reduced expenditure makes Roll'eat's products a double win, ensuring a sustainable and economical choice for those seeking long-lasting, eco-friendly solutions for their food storage needs.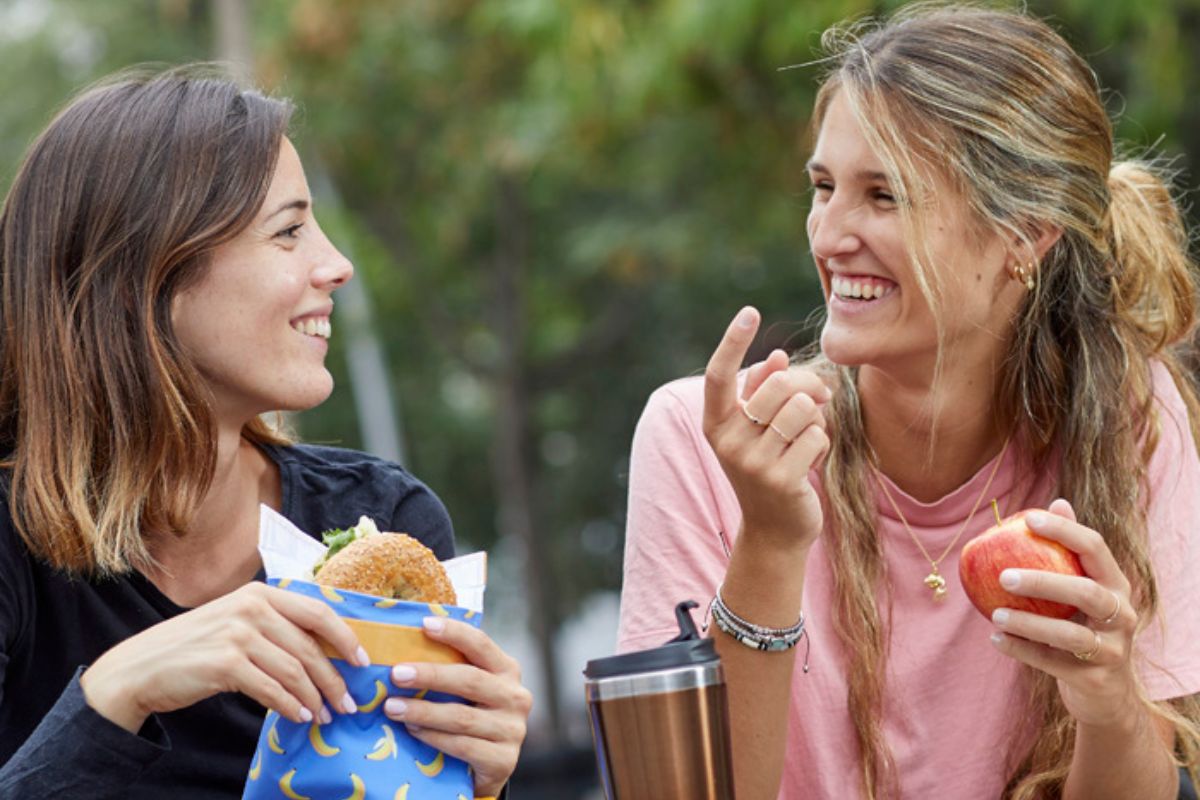 Start using Roll'eat products now
Now that you're aware of the multitude of benefits that Roll'eat products offer, both for the environment and people, there's no need to hesitate. Take the leap and purchase your very own Boc'n'Roll or Snack'n'Go, and experience the joy of reusing them repeatedly to protect our planet. By making this sustainable choice, you actively contribute to a greener future, safeguarding the well-being of our planet and future generations. Let's embrace sustainability and make a lasting positive impact together!